WELCOME TO ADVANCED INTEGRATIVE REHABILITATION CENTER
McLean Chiropractic, Integrative Medicine, Rehabilitation, and Medical Acupuncture
Advanced Integrative Rehabilitation and Pain Center, founded in 1989 by Dr. David P. Sniezek, DC, MD, MBA, has been providing chiropractic and medical care to patients in McLean and Washington, DC. Our practice offers treatment for a wide range of conditions, including back pain, neck pain, low back pain, leg pain, sports injuries, auto injuries, headaches, shoulder pain, elbow pain, wrist pain, knee pain, and ankle pain.
Our services include medical acupuncture, osteopathic/chiropractic treatment, physical medicine and rehabilitation modalities, therapeutic exercises, traditional trigger point and joint injections, and diagnostic EMG (electromyography). Dr. Sniezek has received numerous accolades, including the "Top Doctor" Award in Rehabilitation Medicine with the Washingtonian Magazine for 15 consecutive years and recognition as one of the "Top Experts in Sports Medicine." He has also been honored with the George Washington University Medical Center Faculty Award.
At Advanced Integrative Rehabilitation and Pain Center, we are committed to helping our patients regain their health and lead a pain-free life. With two state-of-the-art facilities in Washington, DC and McLean, VA, we strive to create a welcoming environment where all our patients are treated like family. Choose us for personalized care that caters to your unique needs.
Experience a unique blend of conventional and complementary treatment methods that safely and effectively combine traditional medicine with acupuncture, chiropractic care, exercise, and nutrition to treat low back pain, leg pain, sciatica, neck pain, shoulder pain, elbow pain as well as wrist, knee and ankle pain.
Unlike some practices with many providers (PA, PT, NP, MD, DC) sharing one office, Dr. Sniezek is an integrative health provider trained in multiple disciplines. You meet directly with Dr. Sniezek. This very powerful combination of knowledge, skill, and experience can save you valuable time. Whether you need integrative rehabilitation, physical therapy, chiropractic care, spinal pain management, or any other integrative medicine approaches, our centers in Foggy Bottom, Washington, DC and in McLean / Tyson's, VA are here to assist you.
An integrative medicine approach is beneficial for addressing many conditions, including neck and lower back pain, headaches, elbow and shoulder pain, knee pain, and foot and ankle pain. We utilize integrative medicine to help relieve stress, manage pain, and improve overall well-being and health. Contact Advanced Integrative Rehabilitation Centers today to make an appointment with us!
Our Integrative Care
We are a health care practice in Washington, DC and McLean / Tyson's Corner, Virginia promoting integrative medicine strategies to improve health. We have been leaders in medically diverse care for over three decades. In doing this we have been ahead of the curve and, sometimes, the odd-doctor-out, something we don't mind.
We don't conduct our practice this way for the fun of it, even though it is incredibly fun. We practice this way because we believe it is the right thing to do. We believe that health is something to be cared for rather than owned. And we strongly believe in healthcare that puts patients front and center and squarely in the driver's seat.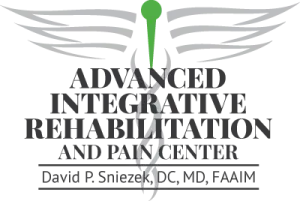 Why Advanced Integrative Rehabilitation Centers?
Our offices have been designed to enhance the healing experience for all of our patients. When treating patients, Dr. Sniezek employs a structured, time-proven process by which we work with you and your primary physicians to develop a coordinated, multidisciplinary treatment plan.
We encourage all prospective clients to contact us with any questions about Integrative Medicine! We are happy to provide any education you seek.
Don't let pain and discomfort control your life. Let us help you! Get started on your path to health and healing with Advanced Integrative Rehabilitation Center for the best spinal pain center, pain management, physical therapy and chiropractor in Washington, DC and McLean. Contact us today to schedule your appointment!