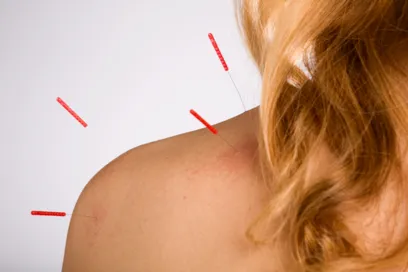 Acupuncture is so much more than just needles jammed in your body. Acupuncture began in China with the use of sharpened items, such as stones and bones, thousands of years ago. Acupuncture in modern offices is performed a lot like that of ancient China, but now implements the use of magnets, pulses, and lasers.
Over time, it became accepted that our energy flow (known as "chi") could be redirected along pathways called meridians. Acupuncture points tend to be the exact spots where specific nerves, muscles, and tissues are stimulated by the use of the needles. Acupuncture therapy has noticeably resulted in increased blood flow and has caused the body to produce some of its own natural pain-reducing hormones (such as adrenaline).
Acupuncture
Acupuncture has been used to treat a variety of ailments, including:
Back and neck pain
Allergies
Depression and anxiety
Osteoarthritis
Knee pain
Headaches and migraines
The World Health Organization has stated that acupuncture has helped with:
Nausea and vomiting
High and low blood pressure
Chronic pain
Morning sickness
Inducing labor
Additional Services
In addition to acupuncture, our office offers:
Sports / Auto Injury Recovery
Therapeutic exercises, such as physical therapy, can help to keep the mobility of an area of the body if it becomes injured. Therapeutic exercises have also been known to relieve muscle tension, tenderness, and inflammation.
Spinal Adjustments
It is pretty easy for the vertebrae along the spinal column to come out of alignment, pinching the discs or nerves in the process. This can also force groups of back muscles to work unevenly, creating undue and uneven muscle use. Spinal adjustments manually place the vertebrae back into their proper alignment, relieving all of the symptoms experienced due to the misalignment.
If you have any questions about how acupuncture or our other services may be able to help you, contact Advanced Integrative Rehabilitation Center to schedule a consultation with Dr. David P. Sniezek and see how our team can get you on your path to wellness. Call our Washington DC office at (202) 296-3555 or our McLean office at (703) 506-8471.